Startup Manager
The ErgoSoft RIP Startup Manager allows you to configure which components of the RIP are launched automatically on Windows startup and features related to RIP server performance.
In Version 15 of ErgoSoft RIP, the Startup Manager is launched automatically with Windows and should be running at all times that the RIP is operating to ensure RIP servers and other critical background components are also running.
In the Windows system tray, look for the Startup Manager Icon

and either double click or right click and select Show Config to open the Startup Manager.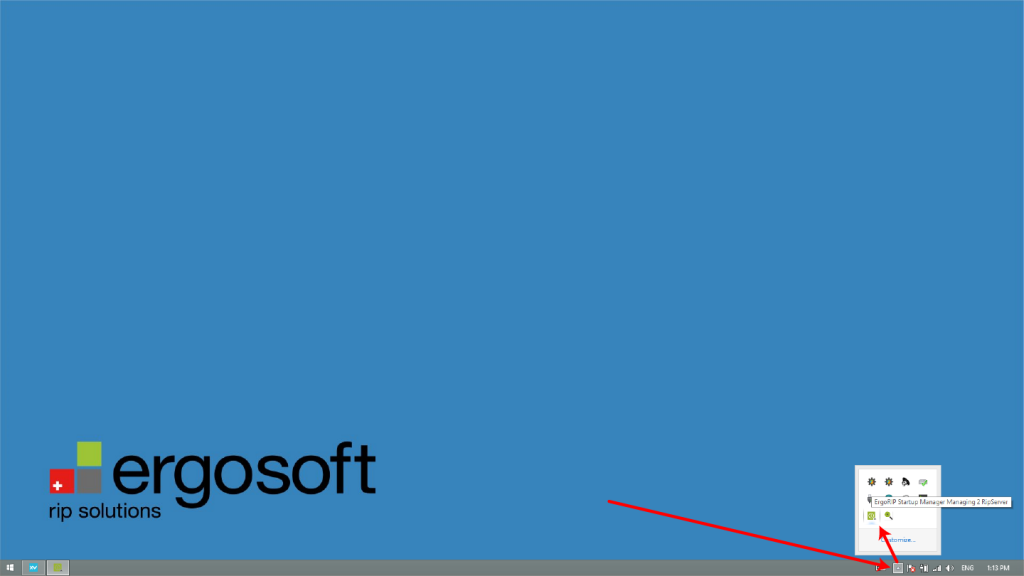 With the Startup Manager open, you can now select how many RIPServers should autolaunch, what those RIPServers should process, the number of processing threads each RIPServer should use, and also what components and print clients should autolaunch with Windows.
RIPServers to be managed:
Version 15 grants access for up to 8 RIPServers to be used simultaneously without special licensing. A good rule of thumb for figuring out how many to have configured is to judge based on available system RAM. Each RIPServer is able to utilize approximately 4 gigabytes of RAM each so for each one you plan to run simultaneously your system should have that much free. In addition to that you should also allow for extra RAM for the remaining RIP applications and the OS itself. For example, a system with 16 gigabytes of RAM available is best served by running 3 RIPServers simultaneously. Using more than that will not affect stability but rather give each additional RIPServer diminishing returns regarding speed.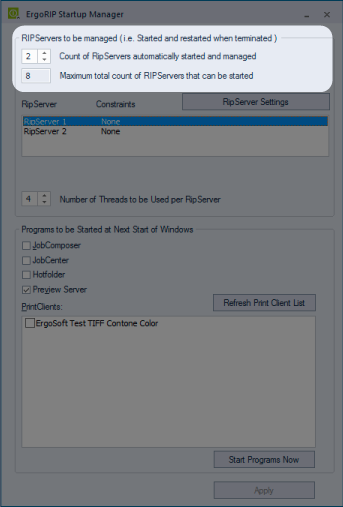 RIPServer Settings:
This section allows you to dedicate specific RIPServers to specific PrintClients so that they will only rip jobs for that particular PrintClient. This can be useful if you want to be sure no printer is idle due to the ordering of jobs waiting to RIP.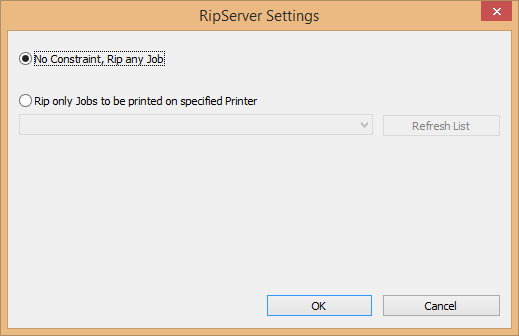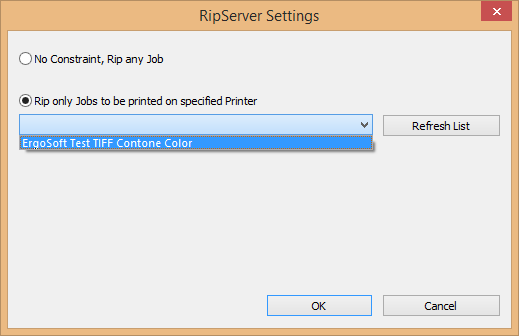 Number of Threads to be Used per RIPServer:
This allows you to configure the number of processor cores available to each RIPServer. Please refer to the Application Note "ErgoSoft RIP recommended System Configuration" for more information before changing this from the default 4.

Programs to be Started at Next Start of Windows:
Here you can choose which components of the RIP you would like to launch with Windows and also which of your configured PrintClients you would also like to launch automatically. This can also be a quick way to launch all of the checked items by clicking the 'Start Programs Now' button if they aren't already running.