Migrating or Backing up your ErgoSoft RIP Installation:
Sometimes you might want to back up your ErgoSoft RIP Installation for emergencies in case you need to restore your setting after a hard drive failure. Or you might want to migrate you installation to another system and are looking for the easiest way to transfer your settings to a new installation or different computer.
Click "Read More" to find a step by step guide on how to backup or migrate your ErgoSoft RIP system settings.
Locate your ErgoSoft RIP User Data. By default this location is 'C:\Users\Public\Documents\EsRip\15\Data\'
If this location has been customized you can find the current User Data location by clicking on Help then About in the ErgoSoft RIP JobComposer and look for the User Data: field.
You should also check the About ErgoSoft RIP information for your currently installed version number. You will need to use the same version on any system involved with this migration.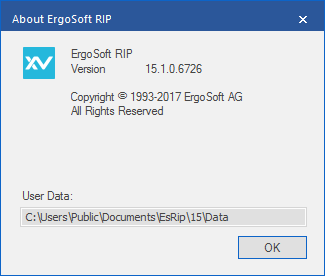 Copy the entire '\EsRip\15\Data\' folder to an external drive or centrally accessible file server. If your system has been running for a long time the folder may become quite large. If it's necessary to reduce the total size of the '\EsRip\15\Data\' folder and not required that your print job information be migrated to the new system then the following subfolders can be omitted to reduce size:
'\EsRip\15\Data\Database\'
'\EsRip\15\Data\JqServJobs\'
'\EsRip\15\Data\JqServJournals'
'\EsRip\15\Data\JobTickets'
Please note that these contain all information pertaining to currently queued jobs and information about how they were printed in the past. It is recommended to back up your JobTickets folder if this information will ever become vital.
Install ErgoSoft RIP onto the new system using the exact same build number as the User Data previously copied. Once the installation on the new system has finished, run the ErgoSoft RIP once and cancel when prompted to add a print environment hit cancel to exit the program.
Locate the User Data folder on the new RIP system and copy the contents of your previous User Data into that folder. When prompted overwrite all existing files.
Launch the RIP and all settings and environments will have been transferred over to the new installation. Please note that any USB port configurations, Spool Folder Locations, and any other customized locations that do not exist will need to be created on the new system or errors will result.