Trainings with Ergosoft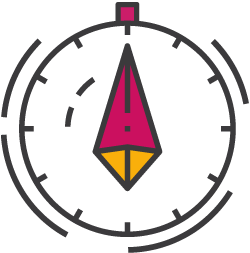 Learn directly from digital printing and RIP workflow experts with Ergosoft's Training Courses!
Ergosoft provides a flexible and personalized approach to your training and education. Learn about color management, RIP configuration, and RIP optimization from our knowledgeable team of instructors.
Through a general overview on a wide range of topics or a deep dive into a single subject, you can become an Ergosoft specialist with our customized training sessions!
Training Courses

RIP 101
Basic RIP introduction. Geared towards first-time RIP users or first-time Ergosoft users. Includes a structured overview of the platform, installation & configuration, main features, and basic use.

Advanced RIP Training
Designed to build upon the fundamental comprehension of Ergosoft, this program explores more in-depth features and functionality.

Color Management
This program offers a deep-dive into Color Management in the ErgoSoft environment. Learn both beginner and advanced techniques, tips, and tools for achieving the color you desire.

RIP Insights
Feature-specific training. Explore the complete capability and power of ErgoSoft's options and features. This program is designed to provide the most information possible about the features and options that pertain to your business.

Profiling & Linearization Workshop
The beginning to achieving good color is to start with a quality ICC profile. This program will extensively review the process that sets the stage for the quality and consistency of all your printed output.
Where to attend
On Location
On-Site training service will be performed at your location.
Scheduling is subject to the availability of Ergosoft Trainers.
Virtual Classroom
Schedule remote training sessions around your availability.
We are available to provide dynamic online training in a visually interactive environment.
Training Pricing
| | | |
| --- | --- | --- |
| Training Options | Duration | Price |
| On-Site Training | One Day | € 1295 / $ 1295 |
| Remote Webinar Training | 1 Hour | € 249 / $ 249 |
| Remote Webinar Training | 4 Hours | € 795 / $ 795 |
Contact Us
For more information and to schedule your own Training, please contact us through the form below