Trainings with Ergosoft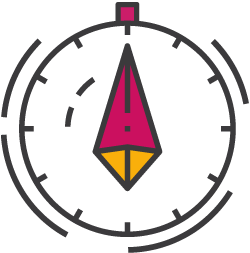 Learn directly from digital printing and RIP workflow experts with Ergosoft's Training Courses!
Ergosoft provides a flexible and personalized approach to your training and education. Learn about color management, RIP configuration, and RIP optimization from our knowledgeable team of instructors.
Through a general overview on a wide range of topics or a deep dive into a single subject, you can become an Ergosoft specialist with our customized training sessions!
Training Courses

RIP 101
Basic RIP introduction. Geared towards first-time RIP users or first-time Ergosoft users. Includes a structured overview of the platform, installation & configuration, main features, and basic use.

Advanced RIP Training
Designed to build upon the fundamental comprehension of Ergosoft, this program explores more in-depth features and functionality.

Color Management
This program offers a deep-dive into Color Management in the ErgoSoft environment. Learn both beginner and advanced techniques, tips, and tools for achieving the color you desire.

RIP Insights
Feature-specific training. Explore the complete capability and power of ErgoSoft's options and features. This program is designed to provide the most information possible about the features and options that pertain to your business.

Profiling & Linearization Workshop
The beginning to achieving good color is to start with a quality ICC profile. This program will extensively review the process that sets the stage for the quality and consistency of all your printed output.
Where to attend
On Location
On-Site training service will be performed at your location.
Scheduling is subject to the availability of Ergosoft Trainers.
Virtual Classroom
Schedule remote training sessions around your availability.
We are available to provide dynamic online training in a visually interactive environment.
Training Pricing
| | | |
| --- | --- | --- |
| Training Options | Duration | Price |
| Remote Webinar or On-Site Training | One Day | € 1295 / $ 1295 |
| Remote Webinar Training | 1 Hour | € 249 / $ 249 |
| Remote Webinar Training | 4 Hours | € 795 / $ 795 |
Contact Us
For more information and to schedule your own Training, please contact us through the form below
Basic Terms & Conditions
Purchase of this service represents agreement to the below terms & conditions unless otherwise communicated in writing by Ergosoft
At Customer's Facility
Two (2) day minimum applies
Price valid for three (3) attendees, higher pricing may apply for larger groups
Customer is responsible for additional travel expenses
Higher daily rate may apply for extended travel locations
Online Trainings & Webinars
Two (2) hour minimum applies
Four (4) hour session can be split and scheduled into two sessions of two (2) hours each
Eight (8) hour session can be split and scheduled into two sessions of four (4) hours each
Training Fees
Training fees will be invoiced upfront.
Travel Expenses
Ergosoft will make every effort to minimize cost and travel expenses but will have sole discretion over hotel and airline selection. Customer will be responsible for any travel expense related to personal security and safety. All travel by air will be economy. Travel expenses are limited to transportation, lodging, incidentals, and meals (excluding alcohol). Should any change in travel plans, initiated by customer, such as rescheduling or cancellation, result in additional charges to Ergosoft, customer shall be responsible for all change fees and charges. Training fees will be invoiced upfront, Travel expenses shall be invoiced following the completion of the service and return of the technician.
Liability Disclaimer
Ergosoft's customer care agents are trained well to avoid adverse impact on customer systems during service operations. Nevertheless, in no event, shall Ergosoft be liable to service recipient, or any other party for any loss of profits, loss of revenues, loss of data, replacement costs, or damages of any kind, howsoever arising, whether related to Software or other services, even if Ergosoft has been advised of the possibility of such damages.